Something new and different:
A podcast of one of my talks.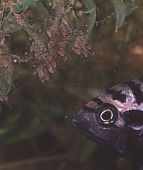 Archocentrus spinossisimus
Click on the image to see that this species "hangs" its wrigglers, a behaviour previously only reported for rainbow cichlids (Herotilpia multispinosa)
Nicaragua
In November 1999, I took my first trip to Nicaragua to see Central American cichlids in a lake. Check it out in "Cichlids in the Wild"
VIDEO!
Video of tubas in the wild in the Rio Puerto Veijo, Costa Rica.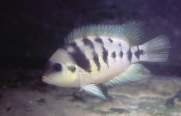 Archocentrus nanoluteus
This is a male Archocentrus nanoluteus pumped up in his breeding colors because he is guarding some newly-swimming fry. I took this photo of John Luckshire's breeding pair on my recent speaking appearance at the Mid-Atlantic Cichlid Keepers.
Tomocichla tuba
A pair of Tomocichla tuba with eggs in the Rio Puerto Viejo, Heredia Province, Costa Rica. The female is on the left; she is about 9 inches in total length. The male, on the right, is about 14 inches in total length. The eggs are the yellowish patch directly underneath her head. Notice the breeding "masks" -- tubas only get these when they are breeding.
Cichlid Egg Project Counter:
currently 220 species!