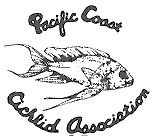 Updated: September 30, 2010
Pacific Coast Cichlid Association
The PCCA is one of, if not the best, cichlid club in North America. If you live anywhere near north or central California, you owe it to yourself to check out the PCCA. In last year's FAAS (Federation of American Aquarist Societies) awards, PCCA members and publications won 11 awards!

Website: Visit the PCCA website.
Upcoming Speakers and Events:


October 9, 2010: Lawrence Kent will be speaking on "Trips to the Lake Victoria Basin and the Kenyan Soda Lake of Magadi"
November 13, 2010: Greg Steves will be speaking on "Lake Victoria cichlids"
December 11, 2010: Ad Konings will be speaking on "Tanganyikan Predators"
Meetings:
The PCCA meets on the second Saturday of every month at the Round Table Pizza restaurant, 4400 Stevens Creek Blvd, San Jose, California. Meetings start around 7:3 0 pm and usually begin with a guest speaker, followed by a large raffle and a cichlid auction. The auction often contains hundreds of fish and lasts several hours. Fish auctioned are provided by attendees, donations from local fish dealers, and from the PCCA itself which brings in rarer species to introduce them to association members.

You do not need to be a member either to attend a meeting or to bid in the auction.
Members receive the PCCA journal Cichlidae Communique six times a year and on alternate months the Cichlid Blues newsletter.

Dues: 20.00/year

Current membership: As of July 2010, there are about 117 members.

Membership info: Pacific Coast Cichlid Association, P.O. Box 28145, San Jose, CA 95159-8145 or contact Jim Ellenberger at ellenbej@pacbell.net
| | | |
| --- | --- | --- |
| | | |